The beginning
The story of my life is possibly of limited interest to most people so I decided to create a specific page for it rather than add to the blog. The content covers how I went from a dumb school kid to creating a life of world travel, a successful business career but above all working alongside my childhood hero Hank Marvin the world acclaimed legendary guitarist.
This page is dedicated to my dear father who did everything in his power to provide me with an education and an understanding there was more to life than working in a coal mine. I also dedicate it to all the wonderful  people who inspired and believed in me through tough times. I will add to this story as my memories turn up and  leave the blog for articles and news which may assist you with your photographic interests, the whole idea and purpose of this site.
Waikato New Zealand
I was born at the Glenhope hospital Ngaruawahia, part of the Waikato in New Zealand 1946.
My first memories are from the village of Pukemiro, a small settlement west of Huntly where we lived.
This is the story of how a coal miners son has spent his life.
The township of Pukemiro, 10 miles west of Huntly had a population base of around 150 people. It used to be a coal mining town and my father was a coal miner. He started work when he was twelve years old and worked there for thirty one years underground in very harsh conditions until the mine closed down in the late 1960's needless to say there was no gold watch for long service. Dad had arrived in Pukemiro  with his family from the UK when he was seven years old. Believe it or not I can still remember as far back as being in my cot, afraid of the dark. I vividly remember rattling the side of my cot on a number of occasions trying to get out, possibly well before I could speak. We were living in a small two bedroom shack with an outside loo at this time. This modest abode was at the back of a large garden in Pukemiro and owned by a wonderful Scottish couple James and Lucy Nelson, who had immigrated to New Zealand as well.
I attended Pukemiro primary school from the age of five, a rather happy time with fond memories of lovely teachers, good student companions and an eccentric principal by the name of Basil Arnold. Remaining there until twelve years old before embarking into what became the worst three years of my life, very dark days indeed at Huntly College just ten miles away. The advice given to me at that time by dad was sensible "Do not work with your hands, work with your head. "I do not want you to go and work down the coal mine."
There was no way I would have ever considered digging coal anyway as I was far too fearful about what may happen to me there plus it was too intensive and being naturally lazy I was more interested in the first option. The best thing was to get the hell out of there as soon as I was old enough.
James Nelson and family
Looking back at that early life I should have been a failure because I came not only from a very humble and restricted background but also to this very day probably hold the record for the lowest examination marks ever achieved by anyone at Huntly College, I suspect that record holds even to this very day. The three years there was pure hell, and the last day of school at that place was the happiest day I had in three full years.
The saving grace for me was being born into a very loving family who cared about me gave my brother and I everything they possibly could. Love was the key plus encouragement to get on in life. I had wonderful grand parents on my fathers side and a wonderful grandmother on Mum's side, she had lost her husband before I was born through sickness. Most of our relatives lived in this township or surrounding areas.
Leaving that nightmare of a college had effectively destroyed my self esteem and self confidence. I signed the school leaving certificate as fast as I could, told the teachers I was going to become a motor mechanic and got out of there as fast as I could. When I arrived home I took all of my exercise books from the case, took them outside, ripped them all up in anger and threw them into a fire I had started in the yard, this gave me the the most incredible feeling and great pleasure.The crazy thing was I had no intention of becoming a motor mechanic, even though I made a feeble attempt and  wrote a letter to an Auckland bus company looking for an apprenticeship. They wisely turned me down in no uncertain terms and probably had checked my record with the college.
Despite the fact my father was a coal miner he was indeed very bright, his hobby was short wave radio and this kindled my interest and turned me toward electronics as a career. He was brilliant at mathematics and had been the bookkeeper and secretary of the local golf club, the ambulance service and he could easily have become an accountant. Why he did not I have no idea but it may have had something to do with the fact he was bought up during the second world war, he missed out on army service because coal miners were exempt and required at home during this period.Why his ability with maths did not rub off on me I will never know.
My grandparents on both sides of our family immigrated to New Zealand from the United Kingdom as did many of the coal mining families. Many from Scotland, England and Wales. I recently found a photograph of my great grandmother on my fathers side. This was a surprise, I had never seen a picture of her and I also do not know a great deal about her, except she had bought up five sons in Christchurch UK and all five sons fought in the first world war, believe it or not all five brothers returned alive. My grandfather had been a gunner in Belgium and fought in battles close to Ypres. He was a blacksmith and I believe did a lot of work in Pukemiro in the early days on horse drawn vehicles, changing horse shoes etc. There were also horses used the mines in those early days.
Pukemiro Swiming Pool
Pukemiro was buzzing at that time, the settlement was well established when I made my entrance in 1946. My mother informed me later in life that I had been a forceps delivery and one of my eye's had been damaged as a result. I have always suffered from a blurred vision in the left eye. There however seems to be some controversy over whether in fact it was damaged or whether it was in a lazy eye that no-one had got to early enough. I can say it has been a hindrance, no perfect vision, lousy at ball sports but overall not a major disability. Possibly the worse time was at Huntly College where lots of bullying took place on a regular basis. Another reason to feel pretty well beaten leaving that dreaded secondary school. This was in 1961 when I was fifteen years old. All I knew was I hated school, I hated most of the teachers and hated the bullies; I had to leave the area if I was to embark on any kind of career, many of the others went into the mine and a few of the luckier ones had secured apprenticeships in the Huntly area. I wondered how others like me felt during similar times.
Those next few years were tough; I thought all the great opportunities in life had passed me by. It was pretty clear to me that those people who appeared to be successful in life were around when all the good jobs were being handed out.
I was  angry and negative in those days but some remarkable things were to happen to me over the next few years. One of which was to discover inspirational people who believed in me, provided opportunities and became great friends.

My Very First Job
The only real option for me was to leave the area and head to the big city. Luckily for me my Dad had a sister who had moved to Auckland with my uncle a few years earlier. This was due to a bad problem of asthma my uncle had the misfortune to endure. He had been the local Barber in the township and I have many fond memories of times spent with them before they left.
It was set that I should move and live with them in Auckland and hopefully secure some kind of career.
Leaving Mum and Dad was very hard as I had been loved to death and I had very little exposure to any city other than the holidays we spent with our friends and relations at various times of the year. Sometimes we would go to beaches around New Zealand but most of the holidays were spent in Auckland. In 1961 the move was made and I joined my Uncle and Aunt in Browns Bay on the North Shore of Auckland. On arrival one of my very first appointments was with the "Vocational Guidance officer" in the Dilworth Building Customs St a significant building that had a great effect on my career without the assistance of of that office, (why will become clear later). This must have been from someone's recommendation and the advice I received must have been pretty neutral as no light bulb came on. The vocational guidance officer was a person who young students visited to discuss the possible ways of achieving a job. In my particular case if my memory serves me correctly there was an opportunity to join a company by the name of Smith's Sound Ltd as an apprentice, I believe I was introduced to this job by the vocational guidance officer. Maybe some firms advised the organisation of pending career opportunities.
I was pleased as this was an opportunity to get into an apprenticeship with a reputable company in Auckland, and I was destined to become a radio technician, wow. The day I joined I was rather nervous as one would probably expect.
Smiths Sound Ltd was owned by two gentlemen by the name of Barry Smith and Ivan Guthrie, they were partners in a store selling radio grams, radios, tape recorders etc and had a repair shop at the rear of the shop in Victoria Street west in Auckland. The senior technician who was going to be my boss was Walter Lem and he was from South Africa. He was a very nice gentleman and if I remember rightly there were also one or two other servicemen working in this environment.
After a few weeks working there another young chap turned up and told me he was starting to train as an apprentice radio serviceman the same as me. I felt this was rather strange and after another two or three days I asked Ivan Guthrie why they had taken on this other person. The answer was rather a shock. Ivan suggested I would be better off seeking a job in the metal work trade. What? I was out of a job, sacked for no reason as far as I could see. However in hind-site they did me a favour which will become not only clear later but also very ironical.
After leaving Smiths Sound Ltd I had a number of jobs the shortest being at Self Help a grocery store in Queen St Auckland. My job was stacking shelves which involved bringing cardboard cartons up stairs every day from the basement, opening them up and filling spaces left by shoppers. "Charming"; a long way from becoming a radio technician. The only good thing about working there was working with two lovely ladies, Gleny's Roberts and Joy Kempster, both from West Auckland.
At this time of my life my parents had made the break from the small coal mining village and moved to Auckland. They purchased a house in Browns Bay, a part of Auckland I loved, when I think back everything they ever did in life was for my brother and I. We had been visiting Browns Bay for years on holiday staying with my fathers sister and all I wanted was for Mum and Dad to relocate to this part of Auckland.
Communication Systems Ltd, Plessey NZ Ltd
My father secured work at a company in Auckland by the name of HC Kitchen Ltd, a hardware company specializing in the sale of timber, building products and hardware. One night he came home and said he was speaking with one of their truck drivers and was told his son worked for Communication Systems Ltd, a branch of the English Plessey organisation and there were job opportunities there for anyone who was electronically minded. Dad had the phone number for John Hendrie the son of Tom the truck driver. I was quick to make the call as I hated the Self Help supermarket and could not wait to get out. Luckily John was a radio ham and my goal at that time was to obtain my radio licence and get into amateur radio as a hobby.
John managed to get me an interview and I was employed as a radio telephone assembler in the factory. This was more like the kind of job I was satisfied with as I had been fooling around with building crystal sets and listening to short wave radio for some time. The job at Plessey bought me in contact with other like minded people, some of whom were very inspiring and I vividly remember them to this very day.
There were lots of opportunities there to further my interest in Ham radio and John Hendrie helped me along the way. There were young people there who had gained apprenticeships in Radio servicing, such as Robert Snow and Stanley Vause, both of whom have become long time friends along with John Hendrie. There was Bob Killip, the manager of the metal workshop who was also an inspiration and more can be read on my blog about him. There was Tom Rogers who sang like Cliff Richard and he was a keen Hank Marvin fan just like me.
Stan Vause, myself, John Hendrie
A year or so went by and I was enjoying myself at Plessey, then to my horror one day I was called upstairs with four or five other staff members and was told I no longer had a job. No reason was given, we were just cut loose. What a shock, how on earth could I explain this to my parents? I was devastated, during the time I had spent there I was attending night classes for my radio technicians certificate and had joined the North Shore Radio Club to further my interest in Ham Radio. I had already passed my Amateur Radio license at sixteen years old and now was once again out on my ear once again with low self esteem.
Luckily Mum and Dad although upset still suggested something would surely turn up and I would be able to continue in the same field with another company.
Next to my surprise a few days after getting the boot by Laurie Grigg, the factory manager I received a phone call from another amazing person at Plessey. This time it was David Keller, manager of the test room and special department at Plessey and he was John Hendrie's boss. Once again John had stuck up for me and convinced Dave to look into what happened.
That evening I went to Dave's house and he asked me if I would go back and work in his department. Wow, I could not believe it, here was a guy who did not really know me but took the word of John and thought he would give me a chance. Back I went, a bit tough facing some of those people, particularly Laurie Grigg who gave me the dirtiest look when I turned up for work again but was probably satisfied I was not working for him any longer. The special department was great, there I worked on more sophisticated equipment, overseen by another gentleman Alan McLean. Next I obtained my first class certificate in radio technology and completed four great years there with a bunch of very good people.
One of those people was another technician by the name of Peter Holden, he was from Canada and considerably older than me. He had spent years in the merchant navy and had been torpedoed off two ships during the second world war. Pete had heaps of stories to tell and I was sad the day he left as he accepted a job with Marlin Electronics Ltd, a radio communication company recently bought out by Autocrat Radio.
Autocrat Radio
Pete Holden and I remained great friends and he convinced me to finally leave Plessey and join him at Autocrat to further my technical career, and as I now had my qualifications they would take me on. Autocrat were a large manufacturer of car radios and they employed many people, however my job was to join the Marlin division and work on the ship to shore communications.
As time went on I became restless wanting more experience and had a real passion for hifi equipment and guitar amplifiers. I wanted to work in the guitar amp business and had been keeping my eyes open for a while to see if any openings were available in that area. Autocrat was a long way from home, I shared transport on a week about basis with another person from Browns Bay but was getting fed up with the long travel each day.
Beverly Bruce and Goldie
The chance finally came when someone from Autocrat had secured a job with Beverly Bruce and Goldie, the company who made Jansen Guitar Amplifiers and also produced guitars as well as electronic organs. My job there was alongside Pat Kelly who was running the Keyboard side and I built and tested the electronic organs that to this very day were a sought after commodity. There were fun times there, another bunch of good people. The company was owned and operated by Bruce Eady another iconic kiwi entrepreneur. During the time spend there I built a Fender Telecaster guitar replica despite the fact my childhood guitar hero Hank Marvin played a genuine Fender Stratocaster. (more about Hank Marvin later).
Concord Electronics Ltd
I was now on a roll, next stop was Concord Electronics Ltd owned and operated by one of my very favorite people Bennie Gunn, a great jazz pianist, another entrepreneur who built Concord guitars and amplifiers. They were also closer to home, on the North Shore of Auckland and I joined them and became part of a team who did everything from assembly to testing and a nice bright factory once again employing inspiring people. It was here I met another life long friend by the name of Glyn Tucker who not long after my joining founded Mandrill Recording Studios in Auckland city. Recording had always been Glyn's passion and he went on to produce some amazing albums and recorded some very famous people.
Believe it or not there was another friend working at Concord Electronics Ltd by the name of Denis O'Callahan, a very bright, well educated technician and he was in the development laboratory for Concord. I cannot remember the timing of this and do not know how long Denis had been there but one day he announced he was leaving to join up with three other New Zealanders to start a Pirate Radio station on board a ship in the Hauraki Gulf. Wow, this took my imagination like wild fire, I knew there were many pirate radio stations operating around the United Kingdom at this time and no doubt this is where Denis and the others got the idea. We were part way through 1965 when this came about and the day I left Concord was to go and work as a technician for an illegal radio station.
Here is a picture of Bennie Gunn taken recently at his home in Browns Bay.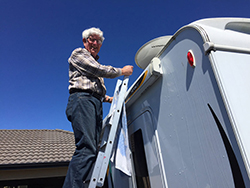 Bennie Gunn
The picture is linked to Bennie's current website. Great reading great music there. Read more about this amazing NZ Jazz pianist.
Radio Hauraki
Commercial radio did not exist in New Zealand at this time, the country was dominated by the New Zealand Broadcasting Corporation and it was time they were stopped. Dear Bennie Gunn did tell me when I left to please pass on to Denis a message to stop stealing my staff. What happen next was amazing, Radio Hauraki became a reality and I had scored a job assisting Denis (DOC) in reconstructing the transmitter and installing it into the good ship Tiri. I was at sea with them as a tech and we worked shifts to ensure the station remained on the air and dished out pop music for the first time ever in New Zealand. I was around 19 or 20 years old at this age and it was my goal to go overseas when I turned 21 and visit my grandfathers relatives in England and see the world.
My old friend Peter Holden has encouraged me to get away from NZ and said I would become a different person once I had my eyes opened. The fact I was now working on board a ship, albeit illegally I felt it ws time to make the move, not only had it been a goal to go I could now see that maybe I could become involved with a broadcasting station in Europe. My interest in photography started around this time, I owned a Yashica film camera and took black and white pictures.
London UK
June 6th 1967 was when I arrived in London, I had traveled via Sydney, Singapore (where I purchased my very first SLR camera, a Pentax Spotmatic and a bunch of Ektachrome slide film, and a budding National Geographic photographer in the back of my mind), Bangkok and Istanbul during the 6 day war with Israel. I already had my eyes open on the way despite what was to come.
The first couple of nights were spent in Earls Court on the settee at a flat of a New Zealand friend by the name of Robyn Sainty. Robyn had left New Zealand a few months before me and kindly offered me digs on my arrival. From there I moved to Christchurch Hampshire and stayed with my Grandfathers brother and wife. Once again a great experience as it was a lifelong ambition to meet all the family.
My grandfather had told me many stories about his days in England and especially about the Christchurch area. It was in fact a stunning English town, a beautiful village and ideal for taking photos.
I met my Grandfathers brother Percy and wife Cis and was given a bedroom in their nice house at 40  Kings Avenue.
The whole of my fathers side of the family came from this sensational place and over the next few weeks I was to meet many other cousins etc and fulfill another goal I had since I was a toddler.
My interest in New Zealand in amateur radio had served me well, I was keen to meet some radio hams in the area, so I hunted out the local radio club and met a few of the people there. I was told about a young person by the name of John Pearce who worked for a local radio dealer. He was a ham and somewhere around my age.
I called into the place and met John, we hit it off straight away and from the rest of my time while I was in Christchurch we got around together. John had a fantastic ham radio set up at home, he had a huge cubical quad antenna and a Swan 500 commercial radio transceiver. These were the days when most radio hams built there own gear and I was drooling over this stunning American made product that John had in his radio shack in the garden of his parents home.
Johns brother Keith played guitar, he was in a local band and they played around the Bournemouth area in clubs and for private parties etc. My attraction to the instrument and days in New Zealand around the association I had  with guitar manufactures gave me something in common with Keith.
He was a great guitarist and their band was sensational, they had actually made a couple of recordings too.
I spent around three months in Christchurch with my relations and for a time I had a job working for the Forte company washing dishes in their Bournemouth hotel, the guy I was working for was a look a like for Warren Mitchell, the actor who played Alf Garnet in the BBC TV series.
This was my very first introduction to work in the United Kingdom. What a shock! First of all the pay was unbelievable, the sum of five pounds and five shillings per week. The next thing was the lessons. Alf was in charge of the dishwasher, it was like a big moving belt and my job was to stack it, the hotel had girls employed for clearing the tables and they dumped the dishes onto a bench in the kitchen area. There were special instructions on how to stack the machine and Alf was the master dishwasher. I was soon to find out that the English had a special way of doing everything.
If a rubbish tin required emptying there were military type instructions on how to hold it by the handles, how to lift it, how to get the right angle over the device it was being emptied into.
Needless to say this was very much a temporary job and I just could not wait to get into the electronic industry again.
I waited around in the Christchurch area for an acquaintance to arrive from New Zealand. He was coming on a ship and I was to meet him in South Hampton. We left together and headed to London shortly after and once again I was being introduced to the big wide world.
We arrived in London late at night and had no where to stay, from memory we just had a pack on our backs and had left all the baggage with my aunt and uncle in Christchurch.
Unable or too late to find a place to stay we ended up on a park bench in Marble Arch. Quite frankly it was hard to find one unoccupied. There were tramps and homeless people here in droves.
After a night of no sleep keeping watch in case of thieves we went into the London underground to find a bathroom and wash up. I have never forgotten the sight there when it opened. A caretaker or Janitor actually had a little office there and he had an electric fry pan and was cooking up his sausages and eggs for breakfast! What in the toilet!
We had a wash and shave, left the smell of bacon etc and waited for the first underground train of the morning. We had decided to go to the YHA ( Youth hostel association) to find a bed for the next night.
The YHA was a good place to stay, it was low cost and there were tons of bunks. We stayed a night or two then decided to hitch hike a ride to Scotland to see remnants of or Scottish family heritage.
Our first port of call was the famous UK city of Windsor, we had gone there on the train and checked into the YHA in the town. We visited Windsor Castle for the first time, and naturally a pub or two. We got rather fond of Tenants lager, a Scottish brew we would get to know a lot better over the coming weeks and months.
A few days in Windsor looking at the sights and pubs we headed off for Glasgow. The large trucks heading that way were the best bet for a ride and we hit pay-dirt immediately.
We were introduced to road side cafes, plenty of sausages and eggs and the life of a trucks in England.
The truck we got a lift with was going all the way to Glasgow and we got there very late, I have never forgotten the lights of the city from a distance when we were approaching. I had remembered all the stories my Grand mother had told me and it was like i had been there before.
The truck dropped us off down town Glasgow, in a place called the Gorbales. We found out pretty dam fast this was not the best place to be at midnight.
A police car went past, backed up and two policeman got out and asked us what we were doing there.
We are from New Zealand and have just arrived in Glasgow was my response. Well you are in a seriously great place in Glasgow if you are looking for trouble.
You had better come with us. Next minute we were taken to the police station and given a place to sleep. I say a place to sleep as that was all it was, a cell, smelly and a rubber mattress on a stone floor. We had to choose a blanket and they had all be torn up by previous prisoners.
There will be no breakfast by the way, you two are not prisoners, we are just giving you a safe place to sleep so no entitlement to breakfast.
They locked us in and that was it. A cell each, high quality Scottish Hospitality.
The following day when we were released, Jim, my NZ friend, called his aunt who lived in the Glasgow suburb, of East Kilbride. They were totally horrified to think we had spent the night in the can at the Gorbales. Why did you not phone us? We would not have been concerned what time of the night it was. Typical Scottish hospitality.
We stayed for quite a while at this place, and this was a wonderful reconfirmation to me on just how generous and hospitable Scottish people were. It was if they were my family, there was nothing that was any trouble, they were just amazing. They took us anywhere we wanted, introduced us to other amazing people and this is what i remember life to be like back in New Zealand. There was no doubt in my mind now i was very proud to be of Scottish heritage, these were my kind of people.
Jim and I decided we were going to hitch hike around Scotland and we set off for the North  after being dropped off on a road somewhere by these wonderful people. Please hurry back and remember you are most welcome. This is what life is about, great people.
Naturally we headed for YHA again, the first of which was Loch Lomand,
Another goal reached as my Grandmother in New Zealand had told me all about it as a kid. To see this wonderful lake for the first time was incredible. Something I had dreamed about for many years earlier.
We got rides all the way around Scotland no problem, up through the great towns of Pitlochry and Perth.
We stayed in the YHA in Pitlochry and arrived in the town of Perth around midday. Jim said let,s try and grab some lunch so we went into the first hotel we saw. Unusual for us as we were always looking for a cheaper type of place.
On arrival there was a public bar, rather crowded for that time of day and a nice lady welcomed us.
Jim, who was a bit of a drinker said, lets have a beer before we worry about lunch. A couple of the famous tenants lagers later Mrs Adam who was the land lady of this establishment made us some sandwiches.
When were about to leave, she asked us where we were going, oh we a off to the YHA up on the hill by he castle.
No your not, you are staying right here in this hotel, I have spare rooms and you are most welcome.
Once again stunning Scottish hospitality.
We were off again the next day after what we considered was a luxurious night in a real hotel.
The fact it was free blew us away, here we were, young in our twenties being looked after by these foreign people who did not known us from a bar of soap.
On we went up through the north of Scotland, through the lakes and as far as Inverness.
We came back down through Fort William to Glasgow and back to East Kilbride.
We wanted to go back to London and rather than hitchhike we decided to buy a car. We bought an old black Ford Consul for about five pounds. It required a new engine but we got one somewhere and with help from the good people we were staying with managed to get the thing on the road.
The car barely got us back to London, i remember the cooling system was a problem and we had to keep putting water in the radiator. Once again we managed to get to a YHC near St Albans. We decided to go to New Zealand house in the Hay-market and check out the advertisements on the notice boards for jobs and accommodation.
This is when we split up, I found a flat in St Johns Wood that I wanted to check out and Jim found a place in Golders Green.
Once again it was a stroke of luck for me, I arrived at Circus Lodge, Circus Rd in St Johns Wood to be greeted by Colin Flavell, who has since become a lifelong and wonderful friend. The flat occupied six people and I settled in quickly. However it was short lived as we had a massive party and we all ordered to leave. Colin and I found another two people, Bruce Templeton and Warwick Tweedy and we rented a flat for approximately another three years at 48 Chatsworth Rd Kilburn.
While we were living at St Johns Wood I had secured a job paying eleven pounds per week at a company in Elephant and Castle. It was a big wholesaler called Headquarters and General Supplies. My job was repairing and repackaging radios that had been returned. The company specialised in mail order.
As the pay was not so good in this job  I always kept my eye on the newspaper. One day I saw a job advertised in a shop in Tottenham Court Rd. It was Technical Trading Company, the very first shop hifi store on the left hand of the road out of the Tottenham Court Rd underground station.
An interview with the owner was made and I appeared on time to meet Roy Gasteen, he lived and worked out of Brighton in Southern England. They were looking for a shop assistant and I got the job on my first interview. The manager was a Mr Selby and there was another assistant by the name of Peter Mumme an Australian fellow who turned out to be a very good guitarist.
Within a couple of weeks I received a phone call from a woman at Head Office in Brighton. I was to get the train down there for a meeting with Roy Gasteen. My immediate thought was I was being fired, but to my surprise Roy was offering me the managers job at the London store.
My concern was what would happen to Mr Selby, he was an older gentleman and it was obvious I was going to replace him.
Roy Gasteen came up to London a few days later an gave Mr Selby the bad news. I can still remember how I felt that day as it had happened to me before and it was not very good.
Peter Mumme and I ran the store together, we decided to clear the old products out from the basement and have a big sale. One interesting thing was the theft by shoplifters, Peter had found an empty portable radio carton at the end of the day and announced the radio had been stolen. Believe it or not an old guy returned the next day, asking for it to be repaired. He said his neighbour had purchased it the day before and it did not work.
Naturally we thanked him for bringing it back and gave him a receipt for the return of one stolen Radio.
We employed a young student by the name of Ken Hawes, he worked for us on Saturdays and late nights. Ken was a real character and he also worked for Charlie Watkins who was the founder of WEM Watkins electric music company.
Ken was an electronic wiz and he also had built and ran a mobile disco. We ended up going to parties all over London together humping all this gear including strobe lighting.
we have recently made contact again after around forty years and Ken still has his own retail store in London selling and hiring disco equipment. He also has a very successful company manufacturing and selling electronic devices to container shipping companies world wide for establishing the security of deck seals around the ships holds.
During the period at Technical Trading Company we got to meet many people from all walks of life. One such person was Barry Mitchell, he was a sales representative for John Dallas an electrical wholesaler in London. Barry drove a blue E Type Jaguar car and he was a successful salesman. Although I had intended joining one of those English Pirate Radio Stations the idea was cut short due to the government closing them all down a few months after my arrival in the UK so I ended up managing the very first hifi shop on the left hand side of one of London's great streets.
However I was there to travel and had to leave the job to see Europe for a few months, down Italy, Greece etc and a new job when I returned to London, possibly as a salesman (wishful thinking).
Dubreq Studios Ltd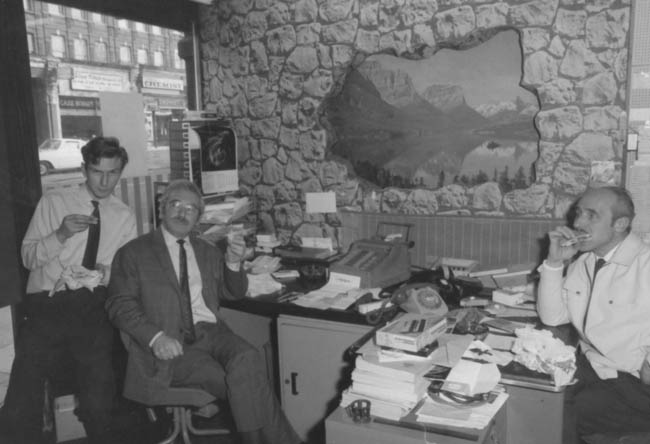 Brian Jarvis, Ted and Bert Coleman
My next job in the UK was close to Kilburn, Dubreq Studios a company manufacturing the once famous Stylophone, a miniature hand held electronic organ. This company was by very good people, Brian Jarvis, Ted Coleman and Bert Coleman. I settled there for at least for three years or so, except for one bleep.
One of our flatmates Bruce Templeton from Christchurch New Zealand was a master salesman. I was in awe of his sales ability and as a shy technician was longing to get into this positive way of life.
I had knew Barry Mitchell the sales rep at John Dallas when I was at Technical Trading in Tottenham Court Rd. Barry was a very well respected and watching Bruce succeed with selling I thought I could do the same. Therefore a call to Barry would do no harm and ask him if I could get a job selling electronics for his company. Needless to say he did, but what a disaster, I had no idea how to sell and I was out on my ear in no time. Embarrassing to say the least lasting about three weeks if I remember rightly.
What an embarrassment for Barry, the poor guy. Back to Dubreq with my cap in hand and the good people there,  took me back no questions asked and I stayed with them until my return to New Zealand in 1971. By this time I had married and with my wife traveled by road from Europe all the way to India another story on its own that would fill a book.
New Zealand 1971
Within a day or so of reaching New Zealand via Sydney and turning down a broadcasting job at 2uw a radio station I visited Andrew Smith and John Hendrie at their radio service business. It had grown and that day we went for lunch and I started working for them then and there.
A period of time went by, their business expanded and Andrew decided to start a hifi store. We discussed selling tactics and this was fast becoming a real interest for me.
Andrew ended up sending me on a Dale Carnegie course knowing well most entrants to this course changed their employment before completing the course.
I was no exception, I got the sales bug and was determined to succeed this time. My wife did the course along side me and we started a pretty positive life. I got a job selling Insurance, made great money until the company went broke, I joined Muzak selling sound systems and during this period my wife and I decided to revisit the UK for six weeks. This was in 1975
What a surprise was in store when we visited our friend Bruce Templeton, he was no longer selling cakes for McVities he was selling copying machines for Xerox. He owned a Ferrari and was their top salesman in England.
How does one get a job there? Was my question to Bruce. Well you need to be persistent as they never have jobs, you need to convince them to employ you.
That was the motivation, I made up my mind then and there I was going to work for Xerox when I got back to New Zealand. Bruce was the top salesperson for that company in the British Isles and this was the word I needed to get started. Luckily Bruce passed on some tips; there were no sales jobs in Xerox. I found that out very quickly; there never were. I phoned the New Zealand office every day for weeks, I found contacts there to call and still there were no jobs. I relayed this to Bruce and was told me "You are not trying hard enough".
I then called the branch manager Terry Johansen every day until at long last he granted me an interview.
When I got there I was told in no uncertain terms there was NO JOB.
My reaction was "Well I am coming to sell for you whether you like it or not".
In the end I made it, through total persistence I got in and stayed there for six years. I made more money than I ever had done before and this set me up for a sensational career. I had the last two years in Xerox as their sales training manager and ended up leaving to start my own audio distribution business in a field I was passionate about.
To this day I am in debt to Bruce Templeton, and many others at Xerox such as Terry Johansen, Terry Eames, Jim Riley and the greatest bunch of guys who well equipped to teach me about "Making Major Sales".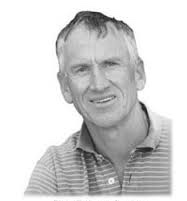 Jim Riley
Jim Riley, who now lives in California was one very influential people in my life, he taught me nothing was impossible, you just had to want it bad enough.
After six years there I had been promoted to Sales Training manager, teaching people to sell. My manager there was the neatest guy Richard Marshall who had been sent to New Zealand to run the sales training department and he was returning to England. Before he went the company sent me to Lees burg Virginia USA on a train the trainer course. This was to be the start of my second dream. To own a business.
Rank Xerox had me motivated, many of the sales people there had sidelines, David Perry had a rest home, others had interests in farms and shops. My passion was hifi and I ran a mobile disco on the side with a friend John Middleton from Andrew Smiths hifi store. John had built the gear and I supplied the Xerox van for moving it around. I also had a relationship with Festival Records in Auckland as a supplier of disco records and I bought their entire stock of the imported audiophile records they were allocated on the meager licence they were given each year. I started selling these to shops.
The trip to the USA was how I got my first break. On the way in Los Angeles I stayed with  Jim Riley eand thanks to him I got the break I was after.
Jim knew hifi was my passion and he also knew I was enterprising. He and I used to print T shirts in New Zealand and sell at a profit.
The first thing I saw at Jim's house was a set of great looking hifi speakers. They were called M and K  a satellite sub-woofer system.
Jim took me to meet the owner of MK who had a retail store in Santa Monica. I told him that I loved the product and would like to make the product in New Zealand. The only way this could be done was if we built 50 percent of the product, ie cabinets, packing etc. Only then could we import the parts.
The course at Leesburg was great, I learned a lot and went back to NZ not giving a second thought to Jonas Miller.
Lo and behold out of the blue came a phone call one saturday from Los Angeles Jonas Miller calling, how serious were you about making our speakers there.
What? Was this real, I said very serious and he said well come up and we will talk about it. Next minute i was on leave from the job and back to Los Angeles in a flash. I had no idea where the money was coming from for this venture but who cared. This was my passion.
The agreement was signed for a two year distribution right for Australia and New Zealand. There was no company name so our initials did the trick, SGH Marketing was born.
Steve Hilliar was on a high, the country boy from the Pukemiro coal mine had signed a business agreement with an established American Loudspeaker manufacturer.
Only in my dreams did I ever imagine this and had always been in envy of an old short term employer Beverly Bruce and Goldie Ltd who made JBL speakers under licence in NZ. They were big boys, there is no way I could do that or could I?
Change is something I rarely thought about, I had been promoted to sales Training manager at Xerox due to my good friend Richard Marshall however here I was back in my own country with an agreement and a set of plans and diagrams for a Loudspeaker system designed in the USA.
Where were the funds coming from to finance this thing? Where would the cabinets be made? How would I convince the Department of Trade and Industry to give me an import licence to get the parts from the USA.
None of these questions had even been any kind of consideration, all I knew was here was an opportunity. I would no doubt find a way.
At this time my wife and I were living in our second house since arriving in New Zealand from the UK we had built and sold in the suburb of Northcote and now had done the same again in Birkenhead.
We had already had our son Scott and probably also our daughter Nicole when I decided to finish with Xerox and pursue this business full time.
My neighbour at that place was Lindsay Moss a retired medicine and drug representative.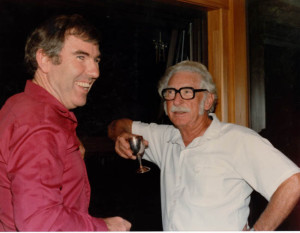 Lindsay Moss (1915-2016)
The day I announced to Lindsay my plans there was a look of horror. What? How can you leave the security of a well paid job with full use of a car, a wife and kids to walk into the unknown?
The comment did scare me, I had about $13,000 in savings and possibly a bit of handout from Xerox as well. The courage to hand in my notice also was a trying time too as I was always hated doing that kind of thing to an employer especially one of the best there is.
Around that time we also sold our house and bought an old Villa in a great location near the beach. It was a real hard move for me as the place we had built had tons of room and the villa was cramped. All this also took a toll on finances. The new place cost more and we needed a bigger mortgage.
The move was made and I had decided to quit Xerox and go into the Loudspeaker production business. I had made contact with an old friend from the Plessey days Paul Edlin who owned a business called Creative Electronics Ltd.
Paul agreed to let me have half of his factory space to start an assembly line. The deal was to use his expertise and staff to assemble the electronic components and circuit boards for the crossover units in the speakers, the power supplies and amplifiers for the powered sub-woofer.
I will never forget the day I started working for myself. I had leased a brand new Mitsubishi Station wagon and when I backed out of the driveway the very first time to start the new venture I stared at myself in the rear vision mirror and shuddered all over. I had finally reached a life long dream, I was going to work for myself and not only that it was in an industry I was totally passionate about.
Now before we move on I must point out the state of play in the audio industry in New Zealand at this time.
A very few companies dominated the business. It was almost a monopoly situation.
Panasonic or National as it was known then was handled by Fisher and Paykel, a conglomerate who were one of the largest companies in the country. They also built washing machines, mowers and all kinds of other products. They had an assembly line and built Hifi amplifiers from scratch, circuit boards and all. They had blanket coverage and hardly any competition at that time.
There were a few other electronic companies the same, long established wholesalers such as John Gilbert and co, Smiths Sound Ltd, owned by Ivan Guthrie (who employed and fired me once). Fountain Marketing Ltd, and their Tee Vee Radio/ SOS Radio retail division.
The main retailers in Auckland at that time were Paul Champion, Smiths Sound, Farmers Trading Company, Civic Stereo, owned by Rodger Batanager. Downtown Stereo owned by Eric Fazen.
The bigger players were some nationwide stores, like Bond and Bond Ltd, Hill and Stewart plus a few specialists.
Most of these carried Panasonic as there was little else available in the electronic line. Speakers were a little more accessible but most were built into New Zealand made cabinets and the parts imported by these old established wholesalers who owned the import licence to get them in.
Here was I with an agency, a signed agreement with a company overseas and no import licence. The very first move I made was to apply for what was termed sample licence, this was to bring in samples only for research.
Now I was pretty well aware if I could score an order from a company in Australia for some M and K speakers I would have no problem getting the licence I needed.
Not an easy task as there was a lot of rivalry between Australia and New Zealand and Australia did not have the same regulations and import restrictions that existed in our country at that time.
Well as luck would have it I received a phone call from and Australian Retailer late one evening asking he could buy speakers from me. He had tried to buy direct from M and K in the US but was referred to SGH marketing.
An approach was then made by me to the Department of Trade and Industry for loudspeaker parts to assemble into NZ cabinets for export.
This was duly granted and I had my start. The big problem then was how would I fund all this? The Bank of New Zealand had been good to me and the local Bank Manager at that time was Robbie Robertson. A very fair man who advanced me funds to get started plus he arranged a letter of credit with a 90 day line to enable shipment of the goods from the USA.
Wow, I was flying by the seat of my pants and quite frankly was rather scared because I had no prior experience in any of this, the only ingredient I possessed was passion.
This is when an ex Xerox sales employee by the name of Bob Leveloff turned up offering to buy into my company.
The offer seemed attractive at the time because I was strapped for cash, had no real idea where I was heading and here was someone prepared to take part of the risk.
Bob was working as a manager for a printing Ink company at the time and he was out looking for investments. At the time I agreed to sell fifty percent of the business to Bob and he would continue at his current employment.
SGH was really only starting and I was the only staff member.
There was absolutely no thought put into this agreement by me at the time. I never discussed it with anyone. The discussions that took place between Bob and I was that he would continue where he was and if the company ever got to a size that could justify him joining he would.
My view was this would be years away and never gave it another thought. All of a sudden we had an injection of cash and we could get moving. I was happy and doing what I loved. The business now had, orders, import licence, and cash. Now came the fun. Yes the fun but not in fun fun.
Yamaha Japan
Up until this point in time we built loudspeakers only, we started with M&K Sound from Los Angeles, and Electrovoice from South Bend Indiana USA, thanks to Ian Woodhouse from Sydney. This was fun, I loved what I was doing, we were exporting products to Australia as well as supplying the local market. Selling loudspeakers without amplifiers, tape decks and turntables was becoming difficult and this is where the story of Dilworth building mentioned earlier reared it's head again. One day I was visiting a retailer in Auckland by the name of Frank Currulli, he made a suggestion to me that I will remember for the rest of my life and I am eternally grateful to him. "you will never get anywhere until you can secure an agency for Electronics" was Frank's view. My answer was nothing is available and I have no licence for electronics only loudspeakers. Frank replied with "What about Yamaha?" I did a double take then burst out laughing, "You must be joking" was my reply "and in any case the agency was held by Wilson Neil" a liquor importer in the South Island. Frank commented "Well they are not doing anything with it, why don't you go see the Japan External Trade office in Dilworth Building, find their address in Japan and contact them?"
Off I went on a mission, up in the old elevator in the same building I went to see the vocational guidance officer years earlier. Once arriving on the appropriate floor I got hold of a large directory of Japanese Electronic companies and looked up details on the company who built Yamaha products. That company was known as Nippon Gakki Ltd, based in Hamamatsu Japan. PO box 1 was their postal address and I wrote a letter and asked outright for the agency.
Within a short time I received a one page reply from a Mr Uchida, outlining the company made products to enhance peoples life style, not products that make importers rich! I was not really surprised and figured that would be the end of it. However around three or four months later out of the blue I received a phone call from a Mr Karl Nakahama who was staying at the Auckland Travelodge Hotel, he wanted to see me. We met that afternoon and after numerous questions about our speaker business he wanted to know how much import licence we had. My response rather surprised him as he nearly fell over when I indicated we had in excess of one million dollars. What I did not let on though was it was ONLY for loudspeakers not electronics. Karl then went off down to see Wilson Neil their import agent at that time. I heard nothing until he was on his way back to Japan, he phoned from the airport, asked all the same questions again and wanted once again to know the value of our import licence. Once again I said in excess of one million dollars. Off he went and we heard nothing for maybe three or four months. We all figured it was a dead duck until one day a telex arrived it read: "This is Yamaha, where is your order?" When I picked myself up off the floor I responded with "Where is your price-list?"
Next minute the telex machine spat out the full product price-list with another request for an order. My next question to them was "Are we now your agent?" The reply was short, "We will see."
Now came the clanger, we had no licence for electronics, also luckily Yamaha were aware that only $8750 of licence was issued annually for each category to each importer but we did not have access to that, it was only available to the chosen few, we had no history with electronics so did not qualify. The next delay tactic I came up with was to explain I needed an import licence for samples which I knew I could easily get on the basis of two products each over their entire range. Within a week or so I had it, and ordered two of every item. We shipped it in and sold the lot to one dealer, Frank Currulli. How on earth were we going to keep Yamaha happy now, with only loudspeaker licence.
Around that time we had also teamed up with Doug Thomas another importer who had import licence for a stereo product named NAD and we agreed to combine Electrovoice loudspeakers with his brand, sell systems and share in the proceeds. This worked well for quite some time until I was able to pull off one of the greatest deals of all time.
I flew to Japan to own up about the the fact licence was only available for speakers, but if they were prepared to listen there may be a way around it. In the first meeting that took place I told them we needed to build the product in New Zealand, we could easily acquire import licence for SKD (Semi Knocked Down) assemble or in other words Kitsets. They nearly had a fit and flatly refused saying Yamaha would NEVER allow their products to be built outside of Japan. My answer was "How badly do you want the New Zealand business?"
Although they acknowledged the business was important they could not understand why I had not reordered at least the $8750 in each category. "Why was I not accessing the million dollars worth of licence I told them about earlier? "
My reaction was there is no point worrying about a miserable $8750 worth of annual business in each category, it made more sense to import unlimited amount of kitsets and sell heaps. I also indicated that I would not return to New Zealand until I had a positive reaction. Frankly I doubt anyone had ever spoken to them like this before. The next day they had arranged lunch with the top man in the company and he could not speak a word of English. Karl explained to him my plan and he shook his head and Karl just repeated what he had told me the day before. "It would never happen".
Well what happened next was extraordinary, the following day I was told they discussed it after I had gone back to the hotel and decided they would send samples of two loudspeakers, an amplifier, Receiver, and Tape deck. I was to have these assembled in New Zealand and returned to Japan for testing. Wow, we were on our way.
Bob came into the business to work and we had never agreed beforehand what his role would be. This is the biggest mistake I ever made and in fact the single biggest mistake most people make when entering into partnerships. Something I had NOT done in a business I started from scratch with passion would eventually result in my downfall. Squarely on my shoulders, my mistake and no blame to anyone but me.
I eventually sold out of the business that I loved and created when I was young. I had built it into one of the most successful import and distribution companies in New Zealand. However believe it or not, despite the sadness and bitterness moved on to much more rewarding experiences. Meeting wonderful people all over the world, traveling the globe taking photos and above all in 2015 achieved something far greater than worrying about power, money and greed. Yes, at this stage I was knocking on the door of my 70th birthday and proved to myself there was something that beats that stuff hands down.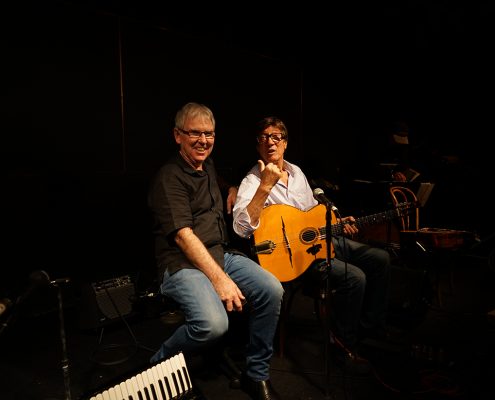 Steve Hilliar and Hank Marvin
From a young kid of sixteen my childhood hero was Hank Marvin, the legendary guitarist from "The Shadows" a group who created pop history in Britain together with singer Cliff Richard. Hank had moved to live in Perth Western Australia around thirty years ago and I got the opportunity of meeting him in 2013 once again through the kindness of good people. My long time friend and New Zealand recording artist Gray Bartlett bought Hank on a tour that year and provided me with the chance to become involved and take photographs. The story got better, I went on to Perth later and took more photos and in November 2015 I filled a theater in Auckland New Zealand with 297 people who I knew personally to see Hank Marvin and his Gypsy Jazz group perform. This blew away anything I have ever done in my life, a totally separate story that will be told in detail soon. Nothing has ever given me greater pleasure than becoming involved with this group and opening up a great new world of experiences with a bunch of sensational people.