Auckland Jazz and Blues Club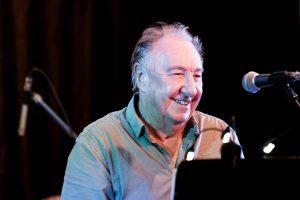 Auckland Jazz and Blues club excelled themselves on Tuesday June 13th 2017. Their venue at the RSA in Pt Chevalier Auckland hosted a true New Zealand Icon Midge Marsden and his blues band. Unfortunately I had never seen Midge live on stage in the early days and last night realized just what I had missed over the years. His ability to sing and play blues is second to none, his enthusiasm for the genre is inspiring and he has put together the most professional stage presentation.
His line up includes the great Chet O'Connell on guitar, Grant Winterburn, keyboards, Mike Abbott on drums and Neil Hannan on bass.
The line up of songs were extraordinary from the old Leadbelly hit "Midnight special" to "that's alright Mama" made famous by Elvis Presley. Midge played the most awesome harmonica and his interpretation of Sony Williamson and the other great blues singers from the deep south of the USA. The venue was packed and this was a treat not to be missed. I was given permission to photograph the concert and I am current building the portfolio to display on this site. If you have the chance to see this band anywhere make certain you grab tickets and make the effort to go, you will be glad you did.
Save
Save
Save
Save
Save
Save
Save
Save
Save
Save
Save
Save
Save
Save
https://stevehilliar.com/wp-content/uploads/2017/06/MM-300x200.jpg
200
300
Steve
http://stevehilliar.com/wp-content/uploads/2018/06/Concertlogo.png
Steve
2017-06-14 18:59:53
2018-03-01 21:08:07
Auckland Jazz and Blues Club