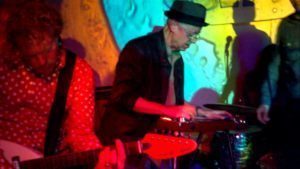 Glenn  Campbell was playing with the New Zealand group, "The Flaming Mudcats"
You can read all about them on their own website but I could not have written the blurb any better so I have taken parts of it and posted it here. This restaurant in Devonport has music every second Tuesday and last night the crowd were given a standard well above the norm. As far as I am concerned these guys were at a level that should be able to demand a following all over the world let a lone New Zealand. Glenn Campbell has been playing all of his life and his ability as a steel guitarist had virtually the whole attendance in awe. Now my take on this is interesting as live music in a restaurant can be rather intimidating to people who wish to go socialize talk and  be merry. In the past at Correllis some singers and performers have been drowned out by the high level of conversation going on. In the case of Glenn Campbell and this wonderful Group "The Flaming Mudcats" there was no way that would happen. Everyone was spellbound.
Whether you like your blues contemporary, traditional, low down or funky…., you're gonna love "The Flaming Mudcats".
As a matter of fact, you will be blown away by these guys even if blues don't happen to be  your thing. The level of  sheer musicianship and energy  they bring to their live performances.
After being on the scene for six years, this Auckland based group has established themselves among the country's premier blues acts.
With their signature brand of rocking rhythm and blues, "The Flaming Mudcats" have taken their show to festivals and clubs in the USA, Australia, The Pacific Islands and throughout New Zealand.
They have also appeared live on national radio and television.
The Flaming Mudcats are four dedicated musicians who share a common passion and love of the blues.
Whilst drawing inspiration from their eclectic influences, their music provides a refreshingly original take on the universal themes of love, loss, and cruel women.
The band is fronted by vocalist Craig Bracken, one of the country's most accomplished harmonica players, with guitarist Doug Bygrave providing the six string raucousness.
 Anchoring these two, is the tight and true rhythm section comprising Ian Thomson on drums and Sean McCarthy on bass.
With a sound, raw, real, and gritty, these cats do it all – swing, shuffle and boogie.
The Flaming Mudcats have to date recorded two well received albums – 2011's "Gave You What You Wanted" and 2013's "Mistress".
Apart from a lone cover on each, both albums comprise original material and present a wide spectrum of blues styles, whilst celebrating that unique Mudcat sound.
https://stevehilliar.com/wp-content/uploads/2016/04/glenn-300x169-300x169.jpg
169
300
Steve
http://stevehilliar.com/wp-content/uploads/2018/06/Concertlogo.png
Steve
2016-04-13 03:34:53
2018-03-05 08:10:57
Glenn Campbell